Sickening: How Big Pharma Broke American Health Care and How We Can Repair It
By John Abramson MD'76, MS
Mariner Books, 2023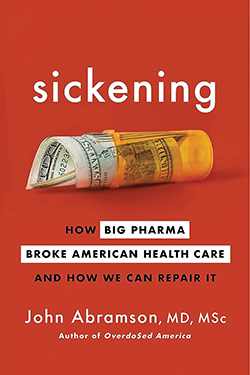 Purdue Pharma, and its deceptive marketing of OxyContin, is but one glaring example of the perverse financial incentives that undermine medical practice and patient health in the US, writes Abramson, a family physician and lecturer of health care policy at Harvard Medical School.
In Sickening, Abramson builds on the work of his first book, Overdo$ed America, to systematically take down manufacturers of several drugs that he shows were misleadingly marketed and overprescribed. He explains how the American health care system has shifted in favor of for-profit corporations at the expense of independent clinical research. He discusses the limits of recent attempts at reform, like the ACA, and lambastes Congress for its unwillingness to lower drug prices despite overwhelming public support to do so.
Though Abramson concludes this scathing indictment on a hopeful note, he acknowledges the David v. Goliath odds that health care professionals, consumers, and even payers can prevail over deep-pocketed Big Pharma. Yet as Americans' health care costs continue to rise while our overall health and life expectancy decline, we must face the challenge, he writes: "change will not happen until the constituency for reform becomes a more powerful force than the corporate lobbyists that currently hold sway over our politicians."