Stanford's dean makes a case for precision medicine.
Lloyd Minor '79 MD'82, P'17, the dean of the Stanford University School of Medicine, grew up a long way from 21st-century Silicon Valley. In ninth grade the Little Rock, AR, native was bused across town to a newly desegregated school, where he learned firsthand that separate was in no way equal. "It was eye-opening to see this injustice," he writes in the introduction to Discovering Precision Health. "It kindled in me an interest in diversity and inclusion that continues to this day."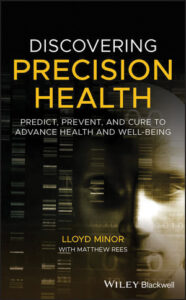 An otolaryngologist-head and neck surgeon, Minor argues that precision health, which uses big data to predict, prevent, and—ideally—cure disease, may be the best vehicle to address this country's most profound health disparities. Our health care system is reactive, focusing on people only after they're sick, and doesn't consider social determinants of health like education, income, and geography. Minor believes technology can help address those issues, from apps that make exercise fun and engaging, to "omics" sciences that advance understanding of preterm birth, to cutting-edge, personalized treatments like immunotherapy, CRISPR, and organoids.
In order for providers and patients to focus on prediction and prevention, Minor writes, "I envision a future in which we are continuously monitoring our health." But he has caveats. "[T]he proliferation of [digital]technology can contribute to an always-on environment" and interfere with our social and personal lives, he writes. "It's a toxic combination that contributes to a variety of social maladies." He cautions about the collection and use of health data, and the ethical questions that surround gene editing. And he calls for more diversity in research—among study subjects as well as the scientists themselves.
Significantly, Minor makes clear tech's limitations. Digital tools cannot take the place of clinicians, who interpret the data and put it into context; precision health, he believes, can actually strengthen the doctor-patient relationship. And even as medicines and technologies improve, he writes, "the biggest gains are likely to come from addressing the social, environmental, and behavioral factors that play such a major role in determining individual health."